PhotoReading – An Overview
PhotoReading
Absorb any written materials at up to 25,000 words a minute!
Welcome to the most effective reading program available. PhotoReading goes far beyond mere speed reading. It is an empowering experience that releases your mind's vast power to handle written information. At the same time it explores and expands your whole brain's potential.
We live in an age when there's too much information and too little time to master it in. To excel we require new skills to let us absorb and integrate information in moments.
PhotoReading lets you experience the impossible. At least it was impossible until you did it… You will mentally photograph the written page directly into your subconscious mind.
There the information combines with your previous experience and knowledge to produce truly synergistic learning.
As a bonus, PhotoReading's whole mind techniques let you develop extraordinary communication with your subconscious mind; by bypassing the limited capabilities on the conscious mind you'll find your personal genius.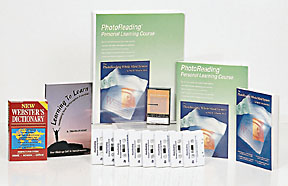 The Course comes with everything you need to learn PhotoReading quickly and effectively. At the heart of the PhotoReading Personal Learning Course are 8 CDs packed with techniques, advice and activities to guide you into full mastery of the PhotoReading process.
At the heart of the PhotoReading Personal Learning Course are 8 CDs packed with techniques, advice and activities to guide you into full mastery of the PhotoReading process.
1.CD one will give you vital background material on PhotoReading as well as a sneak preview of its six steps. You'll have your first experience of the PhotoFocus state when you'll PhotoRead a whole dictionary and play the astounding word recognition game.
2.After looking at the different types of reading at the beginning of CD two, the amazing Star of Wonder exercise will show you how our logical mind blocks learning and how easily we create emotional barriers to success. You also learn about Previewing, SuperReading and Dipping.
3.CD three gives you the core of the PhotoReading technique: PhotoFocus, maintaining a steady state, page turning and how to close with mastery.
4.On CD four you apply the techniques to an actual book – the PhotoReading Whole Mind System – learning activation techniques and MindProbing.
5.CD five explores the PhotoReading process more deeply, working with the second book – Learning to Learn – SuperReading and Dipping, as well as RapidReading.
6.CD six introduces you to Mind Mapping as a valuable PhotoReading tool, and we learn more activation techniques including the use of dreams!
7.With CD seven you get to apply the techniques to a book of your choice as this CD skillfully guides you through the PhotoReading process.
8.By CD eight you've learned all of the techniques – now we see how to adapt the PhotoReading philosophy, applying it to study skills, business reading, memory improvement… We close with a look at goal setting, creating an action plan and generating new behaviour.
In addition to the 8 CDs detailed above, you get:
A 30,000-word dictionary that you'll PhotoRead in minutes to amazing effect.
Memory Supercharger CD. This remarkable CD works in powerful concert with the PhotoReading techniques to greatly increase your ability to remember what you've read.
A 68-page A4 workbook to accompany the CDs. It contains a wealth of support materials, summaries and quick reference pages as well as exercises to show how well you've progressed.
156-page PhotoReading Whole Mind System – the definitive work on PhotoReading, you'll PhotoRead it as part of the course so its ideas become available to you on a deep inner level.
Natural Brilliance – an invaluable book shows you how to unblock your inborn abilities to learn. You PhotoRead this, too, as part of the course, so its powerful message will become a natural part of your approach to both life and learning.
Unlimited telephone support during office hours. We're here to help.
All this for just £199 inc VAT + p&p UK. For overseas, please check our web site, e-mail us or call our sales office.
The PhotoReading adventure…
PhotoReading can help you excel in your work…
A university professor PhotoRead her office library. One day, when preparing a major paper her mind spontaneously activated information she needed.
She was sitting back in her office chair facing her bookshelf as she closed her eyes. On the backs of her eyelids she spontaneously imagined six of the books had red dots on them and were connected by red lines.
She quickly opened her eyes, looked at the books she had imagined and pulled them from the shelves. As she spread them out she realised her mind had connected the ideal resource information for her paper.
Never before had she thought of those six books as having any correlation.
Learn languages faster than before
Needing to learn French a business woman PhotoRead the English/French dictionary repeatedly for a couple of weeks before attending French classes at the Berlitz school in Brussels. Each night after class, she PhotoRead the course manuals and the dictionary.
Within three days she had advanced to the second book. School administrators told her she was performing two to three times better than their previous best student.
Improve your computer skills
A banker wanted to interface his latest computer with his new printer. After hours of trying he remained unsuccessful. Before going to bed he PhotoRead both manuals. His purpose was to let his inner mind work out the details of the problem and solve it upon awakening.
Within the first half-hour after waking up, he had the printer working perfectly.
Lift your sports performance
Two friends played tennis for years. One of them learned PhotoReading and PhotoRead five books on tennis. His game immediately improved so significantly that the other man was stunned. When he discovered the secret he learned PhotoReading too. the end result was the same improvement in his own tennis game.
Increase your creative ability
Several musicians have reported uses of PhotoReading music. they find that PhotoReading musical scores a day before first playing the music makes the first run through much easier – as if they have already practised the piece. "It's like sight reading with your inner mind."
What customers have said:
"Of all the attempts I have made to improve my reading, this is the only thing that has made a significant difference – and significant is not a strong enough word." – M. Curtis
"I've rediscovered the joy of reading!" – A. Preves
"PhotoReading is probably the best tool I've found to unlock my potential" – S. Ritchie
"I've become more relaxed and am finally reading books which have been on my shelf for years." – P Horoshak
"PhotoReading has changed studying from a chore to a pastime." – K. Pederson
What press and authors have said:
"[PhotoReading] has helped many, including myself, to blast through materials at rates of up to 25,000 words a minute." – Bryan Mattimore writing in Success magazine
"Leaders today grasp new ideas quickly, read voraciously across many important topics, and need to stay current with the latest advances in their fields. the PhotoReading whole mind system shows me how to do it all." – Ken Blanchard, PhD, co-author of the 8-million selling One Minute Manager
"If time is money, and reading takes time, then I heartily recommend saving money and time with this brilliant guide. For those of us in the fast lane, the PhotoReading whole mind system isn't a luxury, it's a necessity." – Harvey Mackay, author of Swim with the Sharks and Beware of the Naked Man
"A highly learnable system which both delivers what it proposes and simultaneously opens a huge door to achieving a new balance between unconscious and conscious processes within the user." – John Grinder, co-developer of Neuro-Linguistic Programming (NLP)
Your questions… our answers
Is PhotoReading different from speed reading?
Yes, because your eyes do not move down the page – you mentally photograph two pages at once without moving your eyes.
I've tried speed reading – and I don't enjoy racing through text. PhotoReading for me is relaxing and rewarding, without any of the stress of speed reading.
With PhotoReading I can understand the gist of any book in 3-5 minutes and can master key concepts in 10-15 minutes.
Will I still be able to read books for enjoyment at my current reading speed?
Yes, definitely. I tend to read novels at normal speed and non-fiction using my PhotoReading skills. I've even PhotoRead one or two novels first before reading them at normal speed. I've not noticed any difference myself yet but some PhotoReaders find that they get more out of the novels this way.
Is it easy to learn PhotoReading?
Yes – anyone willing to learn can do it. the innovative techniques are straight forward and easy to put into practice. I got results within the first few hours of starting PhotoReading, which gave me extra encouragement to learn more and get the most from the course.
What is the upper speed limit for PhotoReading?
Paul Scheele, principal developer of PhotoReading, has PhotoRead books at 68,000 words a minute with 74% comprehension – and is currently testing at higher speeds. You may have seen Paul McKenna's late night TV documentary on hypnosis. the programme showed McKenna PhotoReading a novel that scrolled across a Cray's computer screen at over 200,000 words a minute – and he scored over 70% in a subsequent comprehension test.
Any further questions? Ring our staff between 9am and 5pm, Monday to Friday.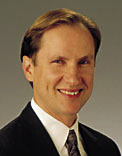 Paul Scheele is the principal developer of the PhotoReading whole mind system.
He has been at the forefront of Human Resource Development for over 20 years. His fields of research have covered adult learning, psychology, biology, neuro-linguistic programming (NLP), accelerated learning, educational kinesiology and pre-conscious processing.
Paul is the developer of Paraliminal and Personal Celebration CDs. This remarkable range of CDs uses advanced recording techniques to access the whole brain and enhance personal performance. Full details of these CDs is included with your PhotoReading Personal Learning Course.
In addition to his program design work, Paul is involved with public speaking and corporate consulting.
PhotoReading – the end of information overload!
We guarantee your satisfaction because we sincerely believe the PhotoReading Personal Learning Course will make a dramatic difference in your life. Order your course today, and if you are at all dissatisfied, return it within 60 days for a full refund.
Click here to order.
STOP PRESS!! Click here to read about the PhotoReading Deluxe package which is filled with ideas straight from the Paul Scheele and others; DVDs and a CD with new and powerful techniques and insights!
Back to PhotoReading main page