MindLab Procyon Information
What Does The MindLab Procyon Do?
Experience profound relaxation at the press of a button
Imagine a world of pure, jewel-like colour illuminating both visual and mental fields. From a single hue indefinitely sustained to a slow morph, brighter then dimmer, fading from deep blue to aqua, then transitioning through a rainbow of precisely sequenced hues and shades. Such colours can profoundly affect consciousness and mood. Blues and greens instill a meditative spirit of tranquility, golden light elicits focused awareness, and crimson, total alertness.
Flickering light can also affect and alter mental state in often dramatic ways, eliciting the "relaxation response", dwelling at the threshold of sleep, or activating visual creativity. Older generation "light and sound machines" could only flicker in one colour, often resulting in strained eyes or headache.
The MindLab Procyon changes all that… The result of more than two years research and development, the MindLab Procyon is the first in a new series of advanced audio-visual synthesizers. Procyon's state-of-the-art colour synthesis engine can modulate smoothly between fields of pure colour (ganzfeld), through subtle shimmering effects, to full-on flicker. Flicker frequency range is the widest in the industryup to 75 Hz. Each colour channel (red, green, and blue) is independently programmable, allowing up to three simultaneous stimulation frequencies at once.
The MindLab Procyon is a new kind of light/sound experience, melding a full spectrum of colour choices with clean, pure digital sound. The resulting new mediaform can be used to modulate states of consciousness in rich new ways.
A palette of millions of colours–modulated by a variety of innovative visual effects–enables a new kind of audio-visual experience, and can closely match colour to the desired mental state.
There's also a unique new capability: the ability to precisely synchronize audio material on compact disc or MP3 with a Procyon program. This feature, called SynchroMuse, is like an advanced version of AudioStrobe, but allows full colour control ideal for use with colour-work, language learning, hypnotherapy, personal growth, music, etc.

Features include

255 shades of each color (red, green, blue)

Multiple visual effects (color phase shift, pulse width modulation, etc.) enable complex light-show-like sessions

Multiple color waveforms (sine, pulse, triangle)

Smooth transitions between Ganzfeld and flicker

Frequency range from 0.1 to 75.0 Hz-;widest range available on the market

Each color channel is independently programmable, facilitating the development of unusually subtle and complex states of mind

Digital Audio Interface for clear, clean audio

USB interface for fast data transfers and OS upgrades

Procyon AVS is powered by your PC when connected;no batteries required. Uses 3xAA alkaline cells for standalone operation

Large Flash Memory store (32 kbytes+)-;over 1,600 program segments

Can be controlled by a PC in real-time via USB

New BioConnect2 biofeedback interface – ideal companion for our our PreSage high-resolution biofeedback system currently under development.
Your PROCYON package includes:

Procyon control unit

Red/Green/Blue compact GanzFrames™ with micro-miniature LEDs

Stereo Headphones-;Fujikon KT-323

USB cable (mini to standard)

Stereo (mini, 3.5mm) audio patchcord

Carrying case

Manual

Free programming software available via download

One-year parts and labor warranty
Order now and get an amazing FREE gift!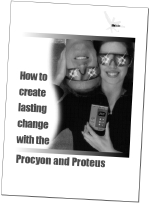 If you order today, or in the next 15 days, we'll include a free copy of a 21,300-word report called How to Create Lasting Change with the Procyon and Proteus. This comes as a PDF.
It contains 19 chapters with techniques for improving memory; increasing intuitive skills; gaining more energy – plus clear strategies, and specific sessions, for improving results with self-hypnosis CDs, language CDs, studying from books – and much more. This report is available from our office for £19.95, but you can get it free of charge by asking.
Click here to find out more about light and sound devices