Book Blaster Issue 17
Spice Girl relaxes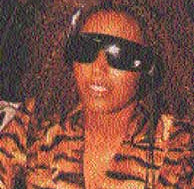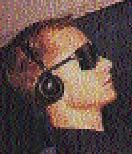 Spice Girl Mel B relaxes using
the MindLab while on the film
set for one of their films Tony Mortimer, formerly with top
chart band East 17, tries the MindLab
LifeTools customer Ray Burmiston based in London is a professional photographer, working specifically within the pop industry. Ray works with Boyzone, Kylie Minogue, West-Life, Robbie Williams, All Saints, Westlife and Oasis among others. He has also been the official photographer for the Spice Girls for a six month period, and similarly for East 17.
-I was on a film shoot with the Spice Girls and I had my MindLab in my shoulder bag as I'd brought it along to show it to Mel B. During a break in the shooting I showed it to her and she asked if she could try it on, though her mum who was there was a bit wary.
-Mel B said something like, 'It's great. the visuals are really good. It's quite calming.' She loved it and said she was going to get one. the photo I took of her trying the MindLab was used, along with many of my others of the band, in the book Girl Power: the Official Spice Girls Book, and was one of the cards in a set of 100 cards you could collect of the band.
-Tony Mortimer, the main song writer in East 17, was really into the MindLab too [the band's top 10 single 'House of Fun' sold 600,000 copies in the UK]. He thought that the sound of the binaural beats on one of the sessions would be a brilliant way to start a stage set. the picture I took of him with the MindLab was used in one of the band's tour programme.
-I work very long hours, especially when I'm away filming, so the MindLab is my constant companion as it really helps me switch off and chill out. Also when I'm changing timezones it sorts out my bodyclock, removes the 'fuzz' in my head, and gets me focused on the job in hand.
-Two weeks ago I bought one of the first MindLab Proteus machines to arrive in the UK. I tried one of my favourite MindLab sessions that had been converted for the Proteus, and found it to be even better than before. It really is superb better than I imagined.