Life Tools Latest Issue 13 incorporating Book Blaster

Movie star Mel Gibson owns the Alpha-Stim!
It's true! Mel Gibson, star of blockbuster films such as Braveheart, Lethal Weapon and Max Max series, owns an Alpha-Stim!
He bought an Alpha-Stim 350, a predecessor to the Alpha-Stim 100, a few years ago. An article on Mel Gibson which appeared in Rolling Stone magazine mentions that he uses it.
Says Alpha-Stim inventor, Dr Dan Kirsch: "When Mel first rang our offices in Texas the lady who took the call thought it was a hoax call, then when she realised it really was Mel she nearly fell off her chair!
"the producer of many of his films, Richard Donner, also bought one. We know that Mel used it a lot because we got a call from his office to say that he needed another recharging cord for his unit, so we said he'd have it the very next day — but he decided to send somebody straight over to collect it.
"We have a doctor in Beverley Hills who has supplied a fair few Alpha-Stims to rock stars — I'll have to see if we can dig out some names!
"We've never talked much about celebrities who use our units because here in the States the Alpha-Stim is only available on prescription, so we tend to focus on all the clinical trials that have been done."
"After only 20 to 40 minutes, I have a firm grasp of a book's content"
Prize Winning Letter – wins five CDs worth up to £124
Dear Chris,
Soon after starting the PhotoReading course I began to realise the amazing potential of Syntopic Reading
[PhotoReading 4 to 6 books on a subject].
Here I was able to read material from different sources, letting them interact on a deep level, to make all sorts of intuitive and creative connections.
This sort of thinking is all the more important to me now as I am starting to use multimedia as an extension of the process of making art and blurring boundaries.
About two weeks after starting the course, I awoke one night with my head full of interesting ideas. In the dark I reached for my notebook so as not to wake my husband, and began to write, not even bothering that I couldn't see the page!
the next morning I was amazed to witness the richness of the threads of thought: the ideas were so fresh and brought together so many completely unexpected juxtapositions, encompassing both art and science.
Right from the start I intuitively felt that PhotoReading was a very deep and powerful technique. I enjoyed being guided into a blissfully relaxed, calm and open frame of mind, so important to successful learning.
Long after the PhotoReading sessions I could still feel the benefits of the calming action influencing my daily life in many small and subtle ways. Also, being an artist, I spend a lot of time observing things, even when I am out in the street or travelling on the tube.
Gradually I became aware that my gaze was taking in a much wider field than before, and was picking up more detail peripherally, all in accordance with what was predicted in the course material. Still, when it happens to you, you can't help being impressed!
My experience with the PhotoReading course has been extremely positive, and I look forward to even more advances and discoveries in the future as this new way of reading with my whole brain becomes second nature.
I still can't believe that after only 20-40 minutes with a book, I can have such a firm grasp of its contents, and at the same time be able to decide whether I wish to devote more time to it or not. I still enjoy reading some books relatively slowly for pleasure, but this is after I have previewed and PhotoRead them first.
Needless to say, this slower speed is still a good deal faster than my previous old rate of reading. Book browsing has now taken on a whole new meaning!
Thank you for introducing me to such an excellent course, and for turning me into a PhotoReader. I now looking forward to receiving Paul Scheele's Natural Brilliance CD course which I recently ordered.
Yours sincerely, Jenny Ellert, Southgate, London
Thanks for the letter, Jenny. Five Paraliminal CDs are on their way!
YOU could be next: send us a letter on any of our products. PhotoRead several books at once for better results in college and business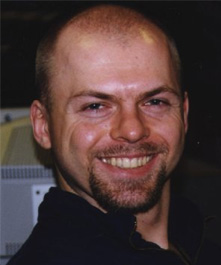 Paul Scheele describes the process of 'syntopic' reading in the PhotoReading whole mind system: "My professor in graduate school told the class to pick a subject in the field of human resource management. He said: 'Read all the books you can find on the subject, and write a 10- to 20-page report on what you learn.'
"I found 12 books. Using the PhotoReading whole mind system, I finished all the books and completed a mind map of my report — all in one afternoon. I wrote the report from the mind map and turned it in.
"When the paper was returned to me, it had only two marks on it: '100%' and 'Excellent.'
"Never before in my undergraduate or graduate work had such a project ever been so easy."
PhotoReader Jack Tencza found this process invaluable when reviewing books on customer loyalty, a new worldwide initiative he is working on at 3M.
Jack learned that the experts and authors said primarily the same thing and that his program contained the essential elements of successful customer loyalty programs. Assured that his information was solid, he implemented the program with confidence.
Chelsa Brown, a student in Maryland, writes, "the literature review I did from syntopic reading really felt like it was mine instead of the authors!"
She goes on to say: "Within two hours I PhotoRead and mind-mapped the books and wrote my paper — and I received 92%. For me it is a far cry from the old method.
"PhotoReading is opening me to books and subjects I ordinarily would not read, because I now have the confidence to understand the material." How can you use syntopic reading today?
"I PhotoRead before I go to bed — then I draw on the information when I need it"
Dear Chris,
I love the 'whole mind' approach that Paul Scheele presents in his PhotoReading course. I've been so used to pushing myself to the point of exhaustion to reach my goals, a habit I've acquired in past learning situations. It's so refreshing to be learning in a way that actively encourages me to nurture and look after my 'whole' self.
Each time I've PhotoFocused, Previewed, PhotoRead, SuperRead and Dipped into a book, I feel increasingly excited by the enormous potential that the PhotoReading course is opening up to me.
One exciting experience I've had, after PhotoReading a book called Crisis Dreaming by Rosalind Cartwright and Lynn Lamberg, proved to me beyond doubt that it is possible to bypass my conscious mind.
Prior to PhotoReading this book I had never read any material on how to control my dreams, nor have I ever been able to realise in a dream that I was dreaming.
That night I had a dream during which I was standing washing up the dishes when a monster leaped out of the sink and started to attack me. At that moment I said to myself: "I'm dreaming", and I controlled this 'lucid' dream by taking hold of the monster and stroking it. After a while it turned into a fluffy, docile kitten which laid contented and purring in my arms.
I woke up so excited, and I quickly flicked through the book to a section that outlined a self-help method called RISC which stands for Recognise, Identify, Stop and Change. I'd been able to apply the author's advice in my sleep without consciously being aware of the content of the book! I now regularly PhotoRead before going to sleep, and trust that I'll be able to draw on any information when needed.
I had a second lucid dream last night after listening to the Trance Induction of Lucid Dreaming CD which I bought from LifeTools. I experienced lucid dream flying — it was really great. I'm on my way, thanks to LifeTools!
It was good to see you, Chris, on Channel 4 recently in the documentary called "In Your Dreams" in which you demonstrated the NovaDreamer lucid dream machine. I'm looking forward to purchasing it and adding to my experiences.
I use altered states of consciousness and awakened dream states in my practice as a Reiki master [a popular method for healing]. I have worked with the MindLab Orion for about a year and found it to be an excellent tool for enhancing my relaxation and focusing abilities.
I highly recommend LifeTools to anyone who is interested in mind expansion and personal growth, and I look forward to many more adventures!
Yours sincerely, Kay Brooks, Norfolk
Kay wins two Paraliminal CDs of her choice for sending us this wonderful letter.
"Focus" leads David Blaul to spend more time with his family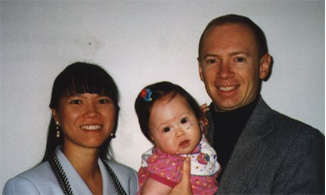 "I use PhotoReading at work to process books, documents, and reports to prepare for meetings on subjects I know little about," says Major David Blaul, of Quantico, Virginia who works for the US Marine Corps.
"When I considered starting a product team for a program I run, I previewed and PhotoRead materials an hour or so before a vital meeting to determine whether this was an appropriate action.
"Activation of the material came during the meeting as I discussed concepts and understood those others discussed.
"After that initial meeting, I wrote the charter and went on to conduct business, using this information as a starting point."
David found the whole mind approach of PhotoReading helped "stimulate synergistic ideas" that were immediately valuable.
If that were not enough, he discovered what many believe is the ultimate benefit of Photo-Reading.
He developed a keen focus that helped on the job, but more importantly, it resulted in creating more time for him to be with his family.
David was also moved by the dramatic results he experienced with an often overlooked, yet profoundly powerful, Paraliminal CD, Holiday Cheer. It is designed to help bring love, peace, and joy into your life at any time through the year.
It helped David recognise the relationships among holiday festivals around the world.
"In America Santa Claus reminds adults of good feelings of joy they had when they were younger. In Asia, dragons at festivals serve the same purpose.
"As my children get old enough," he writes, "I will teach them PhotoReading and share the Paraliminal CDs with them to help them develop their whole mind."
Medical journal reviews MindLab Orion
Top magazine GP Medicine — which goes out to 40,000 general practitioners — featured a review of the MindLab Orion in its October 9 edition.
In the article, Dr Peter Standing, based in Bury, Lancashire, wrote: "This fascinating American electronic device has its origins in the rhythmical drumming of Indian shamans gathered around flickering campfires. By combining light and sound, the MindLab aims to take you to a calm state of awareness between wakefulness and sleep.
"Some people use the machine simply as a relaxation device to help stress and insomnia, while others claim it helps them to meditate, overcome negative thought patterns, control pain or accelerate learning.
"During a typical MindLab programmed session you sit quietly for 15 to 30 minutes wearing headphones and dark glasses, which generate pulsing sounds and light. Viewed through closed eyelids, the lights form strange and colourful patterns, and the pulse frequency drops slowly, aiming to encourage your dominant brainwaves to move towards the theta waves associated with hypnogogic states."
---