Book Blaster Issue 10
Quiz Liz gets 99.8% in 2,000 question quiz book thanks to PhotoReading
Elizabeth Thomas PhotoRead a source book for people who set general knowledge quiz and, when tested, scored 1,996 out of 2,000. Her success has amazed the author of the Quiz Setter's Quiz Book who says not even he could beat her.
Elizabeth says she didn't set out to be a mastermind. She just liked the MindLab that her son bought her so much that she decided to get the PhotoReading Personal Learning Course as well. Little did this 52-year-old housewife realise the power it would unleash in her. That is, the potential to dominate every Friday night pub quiz in the land. Not to mention new reading skills with which she is thrilled.
Author, Don Wilson, is taken aback by her success. "I don't think I could have got that many questions right. And I wrote the book!" he told Book Blaster. But, says Elizabeth, the extraordinary results she has achieved didn't come overnight: "I got the course at Christmas. I found I didn't get much result from the dictionary game. In fact it put me off. But I thought, well, you can't say until you've done the whole course whether it's going to be successful.
"I found I could skim through a book and I found that I could recall photographs and drawings in it. I hadn't 'properly' read the book. I'd just gone through it in the PhotoReading way.
I was very doubtful about whether the PhotoReading would help me remember diagrams but I did find that I can remember them. I read a first aid manual and there was one diagram about heart resuscitation. I was extremely delighted that I could recall it. the best result I had was when I PhotoRead a quiz book called the Quiz Setter's Quiz Book. It's by Don Wilson. the funny thing is that I can't remember the questions if someone tells me the answers.
I PhotoRead it five times and then rapid read it a few times. My son and I got into the habit that he would go through a couple of the quizzes each time he came round. I was getting nearly all of them right. In the end I had scored 1,996 out of 2,000. So we contacted the author's publishers and some days later Don Wilson got in touch from his home in County Durham. For 20 years, Don has been taking part in quizzes and setting them. Usually from his own book."
"I think it's brilliant," said Don. "I've set quizzes in pubs and always set quizzes in the classroom in my job as a teacher. I usually use my own book to do it and it's very rare that someone gets a whole quiz right. People usually get two or three wrong out of 30." And Don was very doubtful that Elizabeth could have just happened to know all those answers. "I don't think someone could know all those questions from general knowledge."
Of course, for Elizabeth, quizzes are less of a way of life and more a bit of fun. More recently she's set her PhotoReading to work to help her with her passion alternative therapies and health.
"I've got a lot of books and it would take a lot of time to go through them all. I found PhotoReading very helpful to speed up the process."
When Elizabeth had the idea to combine her use of the MindLab with PhotoReading, she found it was a perfect way to get into state. I find that the MindLab helps. I think it's quite incredible. I've used it if I have difficulty getting to sleep or for relaxation. If we get some spare time, I like to sit down and watch all the lights and patters. It's amazing that you get all those colours with just the red LEDs. I use the MindLab to warm me up before a session of PhotoReading."
And Elizabeth admits that if she hadn't got such value from the MindLab, she would never have invested in a reading course.
"I was very open minded about PhotoReading because we'd used the MindLab and I thought that LifeTools wouldn't sell me something that was a waste of money. the delivery is excellent. "You need to persist with it, then you'll find that it works." Some companies you wait and wait and wait and with this there's hardly any wait at all."
If LifeTools' efforts to give excellent service encouraged her to start PhotoReading, her subsequent success with the course is all down to her persistence and positive approach.
"You've got to forget about it if you don't succeed at first," she insists. "Just keep going through the course. It's not that you can say, oh, I failed at the first hurdle and it's not going to work. You need to persist with it and then you'll find that it works. Well, it did for me. I was extremely pleased with it. If I feel that it isn't working as well as I want it to I just dip into the course again for a refresher."
30 books a month every month!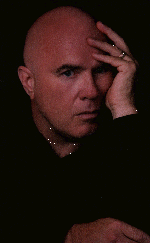 A note with the word "Thanks!" in big letters came through the fax machine in the Learning Strategies office in the US.
Mike Kilgore, from Florida, learned to PhotoRead a year and a half ago.
"It has been an amazing adventure with events that would be labelled magic by anyone else," Mike wrote. He has PhotoRead 30 books a month since then. On his first trip to the library, he walked through the aisles in PhotoFocus. "I wanted to Photo-Read the entire library," he said; then he retraced his steps randomly pulling books without looking at the titles. He followed his intuition, with stunning results. Three books in a row selected from three different aisles were by Lee Iacocca. then, just as impulsively, he reached for three books about George Burns.
"My inner mind led me to those books because there was something in them I needed to learn." He gained insight to increase the profitability of his company and took time to explore a gentler part of life. Soon he returned to the library to choose poetry books. He said he had never written a poem before but that he was compelled to write poetry.
Mike enjoyed two experiences common to PhotoReaders. the first is a connection to his other-than-conscious mind that led him to specific books. Another person might have experienced that as being able to fix a computer problem after PhotoReading the computer books, performing better sports, or improving his or her writing style. Mike also experienced an increase in creativity.
Dave Lambert, who lives in California, learned to PhotoRead last year. He wrote two months later: "I'm not afraid of anything that includes reading any more. Through four years at a top university, post graduate courses and business seminars, and uncountable hours of business reading, reading had always been a struggle," Dave writes.
"Today, 54 days later, I just finished my 50th book using the PhotoReading Whole Mind System. You've opened up a whole new world to me. I have travelled to Tibet, to the Holy Land, to Big Sur. I have studied spiritual masters like Ramana Marharshi, Maharaj and Gangaji. I have read biographies of Melvin Belli and Mike Wallace. I have read Michelangelo and pure adventure stories. I've read and understood computer books. All in less than two months!" he writes.
So to what does he attributes his early success? He says: "I did a book a day. Plan time to do the same, and you will experience remarkable results."
Today he is not reading as many books, only two a week. He finds that he has time for more pleasure reading, because his business reading doesn't take so much time.
"I always preview and PhotoRead pleasure books to discover whether I will like them," he writes. "I discard many more than I read, but I really enjoy those that I keep."
Blasting through Book Reviews!
Ever thought of using your new PhotoReading skills to make money reviewing books at super speeds? That's what journalist, Douglas Cartwright, thought when he was made redundant from Take a Break magazine. Now he doesn't know how he managed without it.
Freelance journalists, like any others, make their living writing down other people's stories. Converting the central ideas of newly released books is a practice very much encouraged by the authors and publishers of the thousands of books published each month.
But here's the problem: for a journalist to make a living, he can't possibly spend weeks wading through non-fiction titles for that pithy idea which will win a commission from the editor of Cosmopolitan or GQ.
When Douglas Cartwright lost his job at Take a Break, he knew that the monthly lists of new releases were fertile territory, but he was nonplussed as to how to find the time to read so much. then he heard about Photo-Reading. He used his redundancy money to buy the course, and he was off.
"The first book I PhotoRead for an article was called Modern Manners by Nigel Rees," says Douglas. "I wanted to interview a father and mother, and a daughter and boyfriend on what they thought made a gentleman in the 1990s. I PhotoRead the book and asked myself to pull out all the cliches about manners. For example, did you know that men walking on the outside was originally to prevent the woman having a chamber pot emptied on her head? I asked the people how they'd feel if their partner used these classic manners. the mother said that it would be fine. the girlfriend said she'd stab her boyfriend in the head with her fork."
Douglas wasn't one of those PhotoReaders for whom results are almost instantaneous. But after an initial blockage, he found himself making impressive progress.
"Some weeks I now wade through seven or eight books, but at first I had a lot trouble. I couldn't see the blip page. I even considered sending the course back at one stage. It was only through desperation at the amount of reading material to plough through that I kept going. I sat down and practiced for 10 minutes a day, just trying to see the blip page even though I know it's not essential to see it. I rang LifeTools. the woman at LifeTools reassured me that there was no set-in-stone way to PhotoRead, they were all so nice and casual and that felt good. Then on the fifth day I finally saw it. I just jumped up and ran around the house shouting to my wife, Cath, Cath I can see it."
Douglas says it's worth doing some practice with the dictionary game, as positive results are really affirming. "When I relax I've had good success with the dictionary game," he says. And it seems to increase those serendipitous experiences with books: "Sometimes, four times in a row I've opened a book on the right page and that was just extraordinary."
On his current project, he's able to apply his PhotoReading skills directly to his work. "For a woman's magazine I'm testing the effectiveness of three self help books. In order to do this effectively I have to prepare a questionnaire based on each book. I will be asking them to try, say, tip number 54 where they might go out in the street, straighten their shoulders and speak clearly. So I've been PhotoReading and going through the book and looking for just those tips that can be featured in the article.
I PhotoRead all three self-help books in about 40 minutes. I felt very confident when I was going through the books. I felt that I didn't have to go through the whole book. It's quite amazing for that. I would thoroughly recommend that people try reading a book in the conventional way and then PhotoReading it because it reinforces one's faith in the system."
Doug now admits to being quite an advocate of PhotoReading. He's intending to teach some of his friends who are taking up full-time study and already complaining about all the books they have to read.
"I think it's a fabulous skill and I can't imagine how I would manage without it now," he says. "If people only realised that they could change their lives and their careers, not just their reading patterns, through PhotoReading then I think they'd really want to use PhotoReading."
How do I make PhotoReading part of daily life?
In April of this year, LifeTools staged a one-off three-day seminar hosted by developer, Paul Scheele. Impulsive Lisa Joffe was so fascinated by the idea of PhotoReading that she took herself straight off to one of his seminars. But, even though she enjoyed it thoroughly and learned a lot, she's now considering using the Personal Learning Course as a way to integrate Photo-Reading into her daily life.
"I did the PhotoReading seminar after I heard about the PhotoReading method last autumn. It all happened very quickly and I so much wanted to meet Paul Scheele that I just signed up for the seminar. I'm thinking of getting the course to give me a way to integrate PhotoReading into my daily life. A friend of mine is doing the course and he's PhotoReading all the books and it reflects to me how good the training must be because he's really applying it on a daily basis.
The seminar did move me forward tremendously. It was fabulous that there was somebody helping me do the exercises and it helped with the time frames. " We had to do our reading in a certain time and then go and do it in a group. We then threw a ball around, shouting out trigger words from the book, which was a great way to activate it.
"It helped me challenge all my preconceived ideas about learning because it was my first experience of accelerated learning. What we did on the last day helped me contradict all my cynicism about whether I could Photo-Read. It was an amazing process. It's transparently clear to me that even though I did the seminar and I have a reference for PhotoReading working, it's still up to me whether I make PhotoReading work. It's a recognition that this wonderful, playful way of learning is available and am I going to chose to do it?
When I began studying my anatomy course, PhotoReading freed me to fall in love with the subject. For example, I didn't really understand consciously a text I read about Raymond Dart and I was getting a little frustrated. But then I applied my PhotoReading approach and the super reading and dipping. I came away seeing the pages clearly and feeling that I have inherently a clearer understanding of Dart's work and yet not having a conscious understanding.
I now want to work further. I'm inspired to work through what he wrote. the PhotoReading process has activated my sense of inquiry and I'm not deterred in the same way by a certain presentation of information. One thing that is wonderful is the structure of PhotoReading. I want to go through all the information and start practising and doing it."