MindLab Proteus Information
Announcing a truly extraordinary device: the MindLab Proteus
Staggering multi-coloured light show guides your mind quickly to deep inner states
Effortless relaxation, faster learning, more energy and deeper sleep – guaranteed
Dear Friend,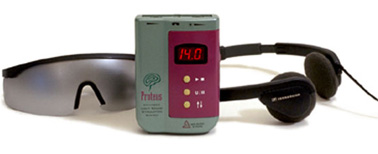 It's 3.25 pm on a Friday afternoon, and I'm amazed at how different I feel right now. Just 20 minutes ago I was feeling so tired after a very hectic week having crammed in too much. I didn't feel I had the energy to start this letter to you before driving home at 5.30.
But I've just finished a 16-minute session on a remarkable device called the MindLab Proteus, and I'm feeling really refreshed, wide awake and full of ideas. I've also just called my wife to tell her that I'm going to take her out tonight for some fun, instead of winding down the week with a DVD.
The MindLab Proteus, which has given me such a lift, is a "light and sound device' which uses pulses of light and sound to change your mental state in minutes.
It consists of a small console unit, headphones and what look like sunglasses: these 'liteframes' have four super-bright lights called LEDs which go in front of each eye. Two of the lights are red and two are green.
During that 16-minute 'Quick Refresher' session, dazzling patterns of colour danced in front of my closed eyes. Reds, greens, blues, yellows – spiralling and pulsing, twisting and turning. The spinning kaleidoscope of colours was staggeringly beautiful, and the thick washes of sound helped me let go of the stresses of the day and lose myself in this thrilling new world.
The Proteus works by sending 16 different brightness levels to each colour – 256 different colour combinations in all – and pulsing the lights very slowly, or all the way up to 50 times a second.
It's the combination of colours and changing speeds that produces the incredibly beautiful patterns you see through your closed eyes. And this combination also creates the changes in your mental state too.
Here's why…
When you are going about your day you may be producing lots of beta waves: waves that are oscillating 16 times a second (16 hertz or Hz). When you are very relaxed you produce far more alpha waves (around 8Hz) and far less busy beta waves.
So when you select a relaxation session on the MindLab Proteus the lights and sound start pulsing at 16Hz, 16 times a second, and over the next five minutes the pulses slow down to 8Hz in the alpha band. This is called the "frequency following response' i.e. your brain has followed the Proteus' pulses down to 8Hz, so you start to feel really relaxed.
The MindLab Proteus has 50 built-in sessions which guide your mind into different states. For example there are Energise sessions that speed up the lights and sounds to higher frequencies to help you feel more revitalised.
There are also sessions to help you absorb information faster, improve concentration and alertness, and to prepare your mind for sleep.
What's it like to use the MindLab Proteus?
When I first tried the MindLab Proteus I was stunned by the sheer number of colours and sheer range of patterns. And the sounds were thick, chunky and solid, which really complemented the beautiful lightshow.
After about five minutes I had a very intense visualisation: I was flying through a canyon, inches above the river at its base. I was really surprised as it's so rare that I can see things with my mind's eye. Then a few minutes later all my thoughts stopped, my mind went really quiet, and it stayed that way for the rest of the 16-minute session, and for about two hours afterwards too. I felt wonderful: calm and peaceful, totally relaxed.
Deep relaxation can help you study more effectively
Research by Losanov in Bulgaria and others has shown that a deep, relaxed state can have a dramatic effect on retaining new information you read or listen to. Researchers have noticed that the relaxed Alpha state allows information to be absorbed more quickly. That's why there are 11 learning-related sessions built into the MindLab Proteus.
You can even read while listening to sounds from the Proteus. These tones, called "binaural beats', can help you stay focused on the printed page so your mind wanders less, and you absorb more information.
'Double' the effectiveness of self-hypnosis CDs and audio learning programmes
The MindLab Proteus comes with a free lead to connect the device to your tape or CD player, so you can play your own music: it seems as if the incredible colours and patterns are dancing along in time! You can also play audio learning programmes (such as language or instructional CDs) – and even self-hypnosis CDs through the MindLab Proteus, if you have any. These CDs may say things like 'You feel relaxed and calm. You feel confident and self-assured. You eat less food and only eat at meal times', etc. The trouble is that if your mind is alert your conscious mind is active and can often disbelieve what it hears, so you don't feel any different.
However, if you are very relaxed, your conscious mind is less active, so it doesn't block the suggestions to your sub-conscious or inner mind which generally believes what it hears.
That's why we've had calls from so many people saying that their self-hypnosis CDs are "twice as effective" when they use them in conjunction with the MindLab Proteus.
Paul Scheele is the creator of the PhotoReading Whole Mind System (a way to read at speeds up to 25,000 words per minute), and the Paraliminal CDs: a range of more than 20 titles including Anxiety Free and Instantaneous Personal Magnetism. He swears by his MindLab. He says:
'With the life I lead I need to have something for myself that works quickly. For me the additional benefit of the MindLab comes when I realise that I may be tired and I need to re-energise. It's like sitting in a really comfy chair. I personally have a psychedelic experience every time. It's perfect for overcoming jetlag and recharging my internal batteries. I call it my portable brain spa. I often use the MindLab in combination with the Paraliminal CDs. People are often surprised when I tell them that I listen to my own CDs – of course I do!'
What research is there?
The technology behind the MindLab Proteus is called "photic stimulation', and this has been researched since the 1950s. Most of the studies have been in America, but there have also been some in the UK.
For example, Dr D J Anderson, from the Royal Postgraduate Medical School in London, reported in the Journal of Obstetrics and Gynaecology Vol 17 No.1 that photic stimulation helped with concentration and fatigue, and helped reduce pre-menstrual syndrome. In an earlier study Dr Anderson found that photic stimulation 'appears to be effective in the treatment of migraine' as 49 out of 50 migraine headaches reported were rated by the patient as being helped by the device.
So you can be sure that the MindLab Proteus, with its 50 highly effective sessions, will give you years of wonderful results. But, if you own a PC (and it doesn't matter if you don't), there's more!
You can design your own sessions! Downloadable from the Internet in about 10 minutes is a session designer, sound editor and library of sessions.
You can store 200 sessions on the MindLab Proteus! In just 30 seconds you can download 200 different sessions into the MindLab Proteus. These sessions even stay in memory if the batteries run flat!
You can upgrade the "operating system'!Yes, you can download updates to the way the MindLab Proteus works, which enables the Proteus to play four different tones at once (called 'dual binaural beats'); pulse the red and green lights at different speeds (to help create a very relaxed but focused mind); control the MindLab Proteus using the ThoughtStream biofeedback device, and more!
Remember: all these extra features are free of charge!
I've spoken to a number of customers over the last few weeks about the MindLab Proteus, and here are some of the questions they have been asking…
Just how good is "light and sound' for refining my mental state?
You may not know that I started up LifeTools in my spare bedroom specifically to sell the original MindLab device because I was staggered at how powerful it was when I first used it.
You also may not know that we have sold more light and sound devices than any other product in our range. Why? Because owners are so amazed by how much more relaxed they feel, or how much better they are sleeping, or how much better they can concentrate, that they demonstrate the device on their friends and encourage them to buy their own. In fact, one customer told us that 15 of her friends now owned a MindLab as a result of her enthusiasm!
There are lots of stories from delighted customers, but here's one that arrived this morning…
'I used to have problems with being able to relax fully. I felt that I was constantly under stress, which was having a negative effect on my well-being, my work and my family. Shortly after starting to use the Proteus I noticed that I was becoming more calm, I was able to concentrate better, and more and more creative ideas were coming to me, both during the sessions and between.
'I'm now feeling so creative that I've actually started writing the novel I've been thinking about for years, and my friends and colleagues have commented that I seem happier and more relaxed with myself. The Proteus has enabled me to shed much of the tension that was a cumulative effect of minor incidents and environmental factors, and I now feel that I am starting each new day refreshed, relaxed and productive.'
Here are some others…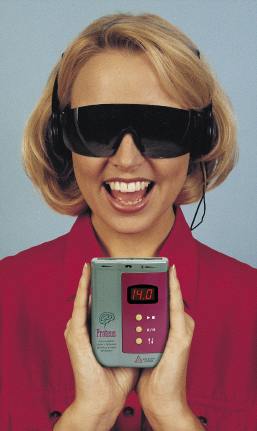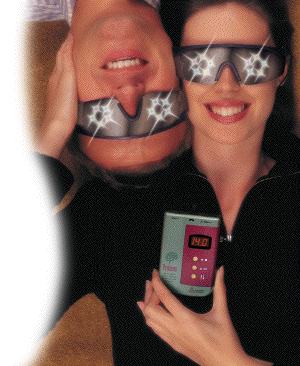 We've already had amazing comments in the last few days from the very first people to sample the wonders of the MindLab Proteus.
Here's what they have to say…
'I was very surprised to see as many different colours as I did more than I expected from two colours of LEDs. I obtained my first light and sound device in the early 90s, and the MindLab Proteus is so much better. I travel around a lot, staying in hotels in strange places, so I find it difficult to get to sleep. However, when I first got my MindLab Proteus, I tried session 32, Release the Day, and had a really good night's sleep which surprised me. I've now just bought the ThoughtStream and plan to link it to the MindLab Proteus I think there's a lot of potential there for accelerated learning etc ' -Tony Cairncross, London
'Fantastic! the patterns and colours are marvellous! On my first try of the unit I noticed this incredible expansion and openness at the end. I felt so relaxed too. Brilliant.' -Philip Longhorn, Cheshire
'First impressions: You get a great and initially overwhelming visual/audio experience. Stunning visuals. You get used to the stimuli to a degree, then you're able to relax. I felt as if I was sort of in a different place, unique experience, more intense than I thought it would be. I can never sleep on my back, and randomly / unknowingly I chose a sleep session; I was able to get more relaxed than I usually could on my back, measurable in part by the fact that I was much more aware of bodily sensations. Very happy. The visuals are stunning. The sound quality is excellent. It's small, well designed, has a host of features, and you don't need to choose between food and mind tech to own one. All in all, this is a great unit. I give the MindLab Proteus and its designers Two Hemispheres Up!' -Scott Miller
Whether you want to feel relaxed, focused, revitalised or sleepy a MindLab Proteus will help you get there in 10-20 minutes – absolutely guaranteed!
I don't own a PC. Does this matter?
No, it really doesn't. The MindLab Proteus is terrific value and will give you many, many years of pleasure even if you don't have a computer: it'll take you months to work through all of the 50 built-in sessions. And it's worth pointing out that, if you ever really wanted some extra sessions, you could probably find a colleague with a PC who's willing to help. And within 15 minutes, if there were 200 sessions online, you would have 200 sessions in your unit which will stay in the Proteus until replaced by new ones – even if the batteries run flat!
We also have extra liteframes so a friend can share the same MindLab Proteus session at the same time. You will also need a pair of splitters, this is all explained in our shop.
Order now and get an amazing FREE gift!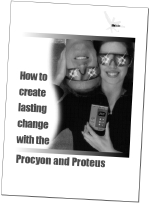 If you order today, or in the next 15 days, we'll include a free copy of a 21,300-word report called How to Create Lasting Change with the Procyon and Proteus. This will come as a PDF.
It contains 19 chapters with techniques for improving memory; increasing intuitive skills; gaining more energy – plus clear strategies, and specific sessions, for improving results with self-hypnosis CDs, language CDs, studying from books – and much more. This report is available from our office for £19.95, but you can get it free of charge just by asking when you place your order.
By combining the MindLab Proteus with the techniques in this report, you'll have a powerful tool for making major changes in your life. I can't wait to hear about your experiences!
UPDATE

The MindLab Proteus is no longer made, although some customers may still have one. This page is up for information for research purposes only. The current model is the MindLab Kasina, read about it HERE.